Regular price
$29.00 USD
Sale price
$25.00 USD
Unit price
per
Sale
Sold out
Auf Lager
schnelle Lieferung
Why Gooddesk?

We offer you everything to do with your workplace. We attach particular importance to the individual needs of our customers.

Our focus is on the highest quality standards paired with excellent customer service.

We offer more than just products. We already accompany thousands of enthusiastic customers at their workplace.

Top references:
Customer Support

Our customer service is available 24/7 to answer any questions you may have.

You can reach us either via our contact form or via info@gooddesk.de
Gooddesk for Business

Why GOODDESK for Business?

We have gained experience from many great projects with our customers.

We offer tailor-made solutions.

What are you expecting?

- exclusive business support

- individual discounts

- Payment on account

- we will send you samples before you place your order, let our products convince you

- Individual embossing or embroidery with your company logo

Contact: info@gooddesk.de

References:
B2B USt-IdNr Lieferung EU-Ausland

Bei Warensendungen in das EU- Ausland ist eine Steuerbefreiung möglich. Vorraussetzungen ist eine gültige Umsatzsteueridentifikationsnummer des Käufers. Da wir verpflichtet sind diese zu prüfen, ist für die Inanspruchnahme der Steuerbefreiung nur eine manuelle Bestellung per E-Mail möglich.

Kontakt: info@gooddesk.de

Die Zahlung erfolgt auf Rechnung.

*alle evtl. Rabattaktionen werden automatisch auch für manuelle Bestellung übernommen.
CORKDESK cork desk pad
Are you looking for a sustainable, high-quality and stylish desk pad?
Then we can introduce you to our CORKDESK cork desk pad!
Why CORKDESK?
Our advantages at a glance:
- Anti-wave formula
The special thickness and quality of the material prevents the formation of waves. Our CORKDESK gives you immediate pleasure and no frustration.
- High quality artificial leather
When choosing the artificial leather, we chose the best material. This not only benefits the optics but also ensures that our CORKDESK does not lose its value over time.
- unique reverse side made of the best CORK
The back is made of high quality cork. The advantage here is that crumbs or dust won't leave any dents or scratches on your desk. These are embedded in the flexible cork, but can also be shaken out very easily.
Often there are nasty surprises underneath after taking down standard desk mats. Similar to cell phone cases. That doesn't happen with our CORKDESK.
- Consistent
CORKDESK is made from organic cork harvested by removing the bark from trees. Cork is a biodegradable material and is free of any harmful substances. Experience nature to touch.
- Easy Clean
Our CORKDESK is water-repellent and easy to clean. Dropped drinks are no problem.
- tested materials
The material of our CORKDESK has been tested for dermatological compatibility and is free of harmful substances.
- Additional
Keyboards that have been pushed around, ballpoint pens that have been dropped or cups that have been set down roughly will leave unsightly marks on the surface of our desks over time.
This is where our CORKDESK desk pad comes into play. The pad makes working much more comfortable. Your hands rest on a pleasantly soft surface and your desk is protected from signs of wear.
Product Information:
reflection-free
Anti-slip coated
Water repellent
High quality
Front made of the best synthetic leather
Back side made of sustainable and high-quality cork.
Highlights:
- Anti-curling
- Odorless
- easy cleaning
- environmentally friendly
- consistent
- Color fidelity
Product Information:
Material: cork and faux leather
View full details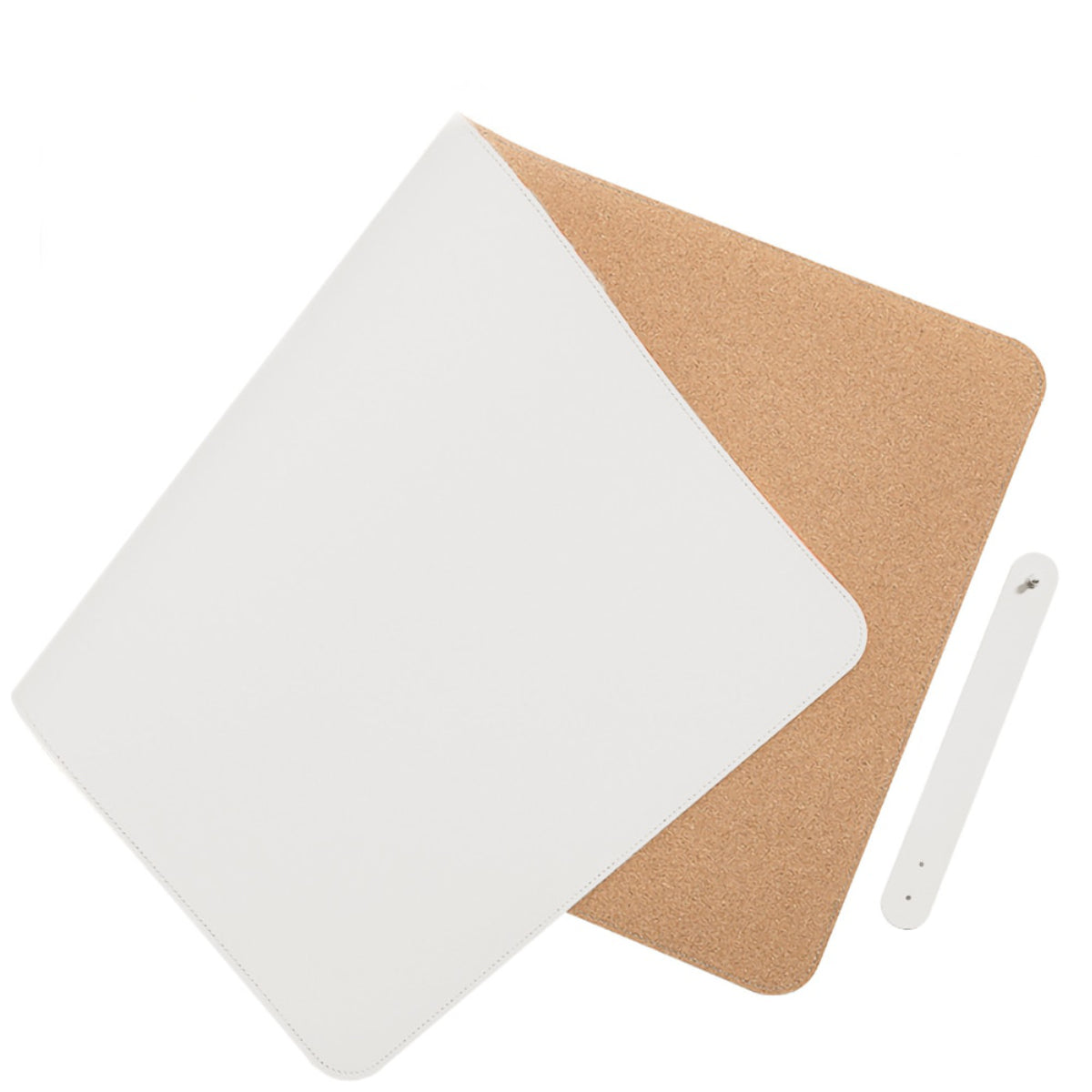 Everything at a glance. Your advantages with us.
High quality products

When choosing materials, we rely on the highest quality and best options.

Free Shipping

You can order our products free of charge. If you don't like our product, you can simply send it back.

Pay easily, securely and quickly

We have all conceivable payment methods. Choose from Paypal, credit card or purchase on account.